We are based in Southern California. We special in scattering of ashes in Orange County, Los Angeles, San Diego, San Bernardino County, western Arizona, and Southern Nevada.
There are many wonderful places to choose from when scattering ashes in Orange County. Orange County California is one of the most beautiful places on the planet and has very diverse landscape. When choosing a scattering of ashes in Orange County you can choose a burial at sea, a scattering over the mountains, or other majestic locations.
When choosing a scattering of ashes off the coast of Orange County you have many beautiful Orange County beaches to choose from. In California the scattering of ashes needs to take place outside of 500 yards off the coast. This is close enough to allow the family to view the scattering from the ground. The family can return to that Orange County beach again to remember their loved one. Some of our most popular burial at sea locations in Orange County are Huntington Beach, Newport Beach, Laguna Beach, and Seal Beach.
A burial at sea off the Coast of Huntington Beach in Orange County is probably our most popular location to do a witnessed scattering service. Huntington Beach is world famous for it's surf. It is called Surf City USA. The Huntington Beach Pier is a perfect spot to view a scattering of ashes by airplane. Family members can gather at the end of the pier to witness the scattering of ashes. The plane will make a low pass in front of the pier and perform the scattering.  We recommend doing the scattering just prior to sunset and then staying and enjoying the colors of the sky as the sun goes down. If your loved one was a free spirit who liked to surf, or just watch the surf, a burial at sea off of Huntington Beach would be a great choice.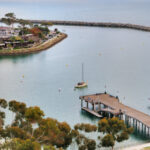 A burial at sea off the Coast of Newport Beach, Orange County is an amazing experience. Newport Beach is home to a lot of yacht and boating activity. Doing a scattering in this area makes for a majestic memorial experience. Many families who witness from Newport Beach do so with their feet in the sand right on the beach. Newport Beach Also has a pier for those that prefer a dryer experience. Many Families then will have a meal at one of the many small restaurants in Newport Beach or close by Balboa.
A scattering of ashes off the coast of Laguna Beach is great for families. Laguna Beach has many tied pools and parks along the beach. We recommend Main Street Beach Park. The kids can play at the beach before or after the scattering. There are also many tied pools within walking distance. Exploring the tide pools is a real natural exiting experience. If your loved one loved nature, this would be a great location for a burial at sea.
If your loved one was not a lover of the beach or the ocean, but rather enjoyed the mountains, I would recommend the  scattering of ashes over the Santa Ana Mountains, better known to us in Orange County as Saddleback.  From Saddleback you can view all of Orange County including Disneyland and the wonderful beaches of Orange County. The location we use for the scattering of ashes in the Santa Ana Mountains is on the west side. This allows for amazing sunsets over the beaches of Orange County.
If you have a request for a scattering of ashes in Orange County over a location we have not listed, please contact us to discuss availability.